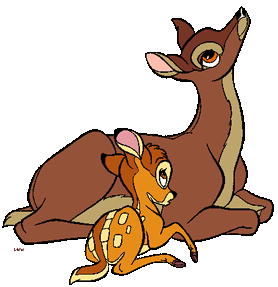 Films:
Bambi.
Voice: Paula Winslowe, Carolyn Hennesy.
Personality: Kind, gentle, wise, nice, motherly.
Appearance: A really large brown deer.
Home: The Forest.
Allies: Bambi, Bambi's Father, Aunt Ena, Owl (Bambi).
Enemies: Hunters, hunting dogs.
Likes: Being with her son, grass, safety.
Dislikes: Man or anyone who is a danger to Bambi.
Fate: Shot by an unknown hunter.